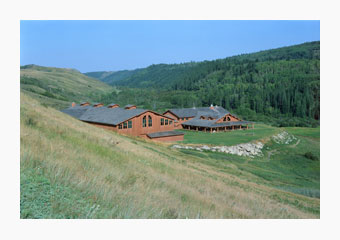 "The Western Heritage Centre is a world–class facility dedicated to western Canada's ranching and rodeo heritage. As Historical Director/Curator, my work included the preparation of all text panels and related visuals. Since Mr. Nielson was the graphic artist responsible for translating my work into a computer generated product, a viable working relationship was essential. In the time we worked together I came to admire this man for several reasons.
First and foremost, Mr. Nielson is a man of integrity, well able to offer meaningful input without sacrificing his own ideals. In the give-and-take situations we so often encountered, I came to appreciate his forthrightness, and drew freely on his common sense advice. I strongly admired My Nielson's capacity for task completion. He performed well beyond the call of duty, giving freely of his own time to meet emergent deadlines. He also showed his ability to work under pressure and to adjust quickly and efficiently to ever-changing demands.
Mr. Nielson produced work of high quality and clearly demonstrated his proficiency in such areas as page layout and design of didactic text panelling, illustration, reproduction of photographic art, creation of signage and other matters related to graphic design. I liked his creativity and his attention to detail. He could re-arrange my text layouts effectively, and he certainly corrected a lot of my errors."
Dr. Max Foran
Historical Director/Curator, The Western Heritage Centre
Professor, Canadian Studies Department, University of Calgary
Noted Researcher and Published Author
---
"Kris Nielson is an unparalleled designer and a project manager par excellence. I was always delighted when our in-house design staff had too much work to handle our design needs. It invariably allowed me to call on Kris to bring his fresh approach to our design problems. I knew I could count on him to take our project to absolute completion and it would always be hassle-free. Every installation of Kris's work received high praise from our visitors and full accolades from all our staff."
Ian Clarke
Former Regional Director, Historic Sites and Museums Branch , Alberta Culture and Tourism
---
"Kris Nielson is the kind of designer who makes your ideas look and sound better than you realized. He listens well and brings his wide experience to each project, delivering terrific results on time and always within budget. He is quick to offer imaginative solutions and stretch your ideas in bright appealing ways. Plus he's a great guy to work with."
Donna Livingstone
President & CEO, Glenbow Museum
---
"We have contracted Kris's services as a graphic designer for the past 15 years and Kris has always over-delivered and never failed to produce exactly what we asked. He understands exactly what you need and uses his innovative energy to create a high quality and perfect product. We have been extremely pleased with his work and know Kris to be accountable, reliable and of the utmost integrity. His communication skills are excellent, enabling him to quickly and accurately respond to your needs and deliver precisely what is required. I would highly recommend Kris Nielson Design without any hesitation."
David Irvine
Keynote Speaker and The Leader's Navigator, CEO, Irvine & Assoc.
---
"The Cowboy Trail Tourism Association was created in 1999 when I was Marketing Director for the Calgary and Area Tourism Destination Region (CATDR).  Kris (Kris Nielson Design) was my 'go-to' source for timely and expert website design and development!  Over several years, The Cowboy Trail initiative grew in complexity and scale and was recognized by industry peer-to-peer awards (including the Innovative Marketing Award – from Travel Alberta; and, the Best Global Tourism Partnership – from the International Association of Convention and Visitor Bureaus – IACVB).   Kris Design provided consistent and critical support to ensure a user-friendly website and project management of print collateral.  Kris's work was accurate in messaging and always completed in a timely manner (often with challenging deadlines).  Beyond the expert resource support and technical services, the lasting impact was that the work was done with accuracy, integrity and excellent client communications!"
Rob Miller
Manager, Community Futures Development Corp. Nicola Valley
---
"Over the years, I have witnessed Kris Nielson's artistic talent and professionalism designing and developing marketing materials and websites. Knowing from experience that he is one of the best, I hired Kris to design materials and a website for my municipal political campaigns. I attribute much of my success in these campaigns to his skillful understanding of audience identification and applying this expertise to his design development."
Joann Churchill
Director, Charities & Development at RC Diocese of Calgary
---
"Kris Nielson Design has provided Tiessen Consulting, The Chuckwagon Radio Network and Its associated companies with graphic design and website expertise that never failed to impress. Kris has provided a level of direction that was both disciplined, creative and always on time. A very tough combination to find when in today's world when everyone needs the job done immediately. Our organizations have received positive and complimentary feedback from our clients, associates and listeners. For us, that indicates not only a job well done, but illuminates Kris and his abilities in design and professional leadership, and the value of him to support our companies efforts. Thanks always for your support and I value our ongoing business work together."
Jamie Tiessen
CEO, Tiessen Consulting & Chuckwagon Radio Network Ltd.
---
"For the past 20 years Satellite Printing has an excellent working relationship with Kris Nielson Design. It is a pleasure to work with Kris, he understands what the client needs and all website / design work is very detail oriented. Files he creates for printing are easy to work with for our industry."
Margaret Kessler
Satellite Printing Ltd.
---
"Kris has managed the Golden & District Community Foundation's website, www.goldencommunityfoundation.ca, since its redesign. His proficiency and speed makes it easy to recommend him."
Ryan Watmough
Executive Director, Golden & District Community Foundation
---
"Champagne and caviar on a beer budget!"
Ron Axelson
General Manager, Alberta Cattle Feeders Association